I THINK THIS COULD BE THE NEXT LITHIUM MINE
ADVANTAGE LITHIUM – AAL-TSXV
Advertorial by Keith Schaefer
There's A Big Change coming in the red-hot lithium sector.  Exploration stocks have made investors rich this year, but now it's the developers—those who can monetize their properties—that will get investors' attention.
It's very tough to put a new lithium mine into production—yet demand continues to soar from the fast-growing Electrical Vehicle (EV) market, energy storage demands and personal electronics and communications devices.
To feed that demand, new lithium mines are needed. The stocks that will outperform in this phase of the lithium bubble are those primed to feed that need.
I think one of the first stocks to do that could be Advantage Lithium (AAL-TSXv).   One of Advantage's key asset is right beside an operating lithium brine in Clayton Valley Nevada—the North American production hub for lithium.
You can literally throw a baseball from their property line and hit their production station.
Make no mistake—I think AAL's project right beside Albemarle's operating mine, Clayton Northeast, is the single most valuable early-stage lithium property in North America and this team got it.
"We've only been in existence for four months and yet we've been able to get land in extremely strategic places," said chief geologist Ross McElroy. "In the Clayton Valley we have better land position than people who have been there a lot longer than us."
And there's only 42 million shares out, with nearly $8 million cash in the till.  With so few shares out, investors get more leverage.  I like that.  I try to find the junior in the best plays with the fewest shares out.
Moreover, Advantage has something no other lithium junior in Nevada's Clayton Valley has: access to water rights.
You MUST have water rights to pump from a brine. The operator next door, Albemarle, is part of the oligopoly (there's 4 of them) that controls global lithium.
They tried legal scare tactics (a cease and desist letter from their legal department). But they failed.
And now–Advantage has proven they have lithium brine on their side of the property line with grades as high as those that have been published by Albemarle, who is running the producing mine!  AAL announced Tuesday they hit up to 218 parts per million in brine on the very first bore hole.
This is the first major step towards potential production at Clayton NE –and it could make Advantage either:
1. One of the first new producers of lithium
2. One of the first juniors to get bought out
Advantage is doing a 3-hole program–and they hit potentially economic grades on the first brine on the first hole.  It makes me wonder–how did a junior get this property?
Advantage CEO, David Sidoo, was able to secure the property.  Sidoo has a track record in assembling properties and selling them.  He was one of the founding shareholders of American Oil and Gas in the early days of the Bakken oil play—and helped get it sold to Hess Corporation for US$630 million.
Sidoo is also very good at assembling all-star management teams.  He was able to convince Ross McElroy to come on board as the company's technical director and as a company director.  McElroy's success in another energy metal—uranium—has made him one of the most awarded geologists of his time.
He was named Mining Person of the Year in 2013 by one of the mining industry's leading publications – The Northern Miner.  His uranium discovery was named Exploration Project of the Year in 2015 by another of the industry's top magazines – The Mining Journal.
He's an EY Entrepreneur of the Year Finalist and is the winner of PDAC's Bill Dennis award, which is the geologist's equivalent of winning Best Director at the Oscars. He has made shareholders A LOT of money.  He has led the discovery of two major deposits this decade and been instrumental in four others.
McElroy's financial partner is also at Advantage—Dev Randhawa has raised hundreds of millions of dollars for his last two energy metal deals. A feat that has not gone unnoticed. Like McElroy, he's also a Northern Miner Mining Person of the Year and an EY Entrepreneur of the Year Finalist.  As well, he's the winner of Finance Monthly's Dealmaker of the Year award.
Clayton Northeast—The Most Valuable Early Stage Lithium Asset in North America
Clayton Northeast is a small property, but so strategic. It's a section of land right along Albemarle's border.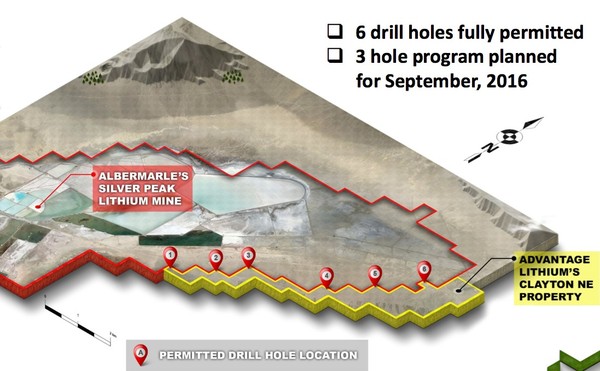 The Silver Peak mine pumps lithium-rich brine up from sedimentary formations a few hundred metres below surface. Geologically there is no reason for the brine to stop at the property line.
Now Advantage has proven it–with more results to come.
The holes are within sight of operating wells on Albemarle's property. Geology doesn't pay attention to property lines so it's no wonder the geological formations that provide lithium for Silver Peak property continue onto Clayton NE.  And the combination of economic grade lithium brine and water rights makes Clayton Northeast a very valuable asset.
Defining a resource is Step One, but Clayton Northeast will carry value far beyond basic pounds-in-the-ground. That's just fact when the miner next door outright does not want another operator pumping from wells 110 metres away from its operation.
"That would scare the crap out of any miner, if suddenly you're drawing from what they consider their aquifer and able to produce a product," said McElroy.
And since Advantage has water rights (unlike any other lithium junior in the entire Clayton Valley Basin) it could do just that. That puts Clayton NE in Albemarle's crosshairs more than any other lithium asset on the planet.
The water rights really up the game here.
"Water rights are very significant," says Sidoo. "We could be looking at a big increase in value if we developed a resource around Albemarle because we have the water rights."
Albemarle proved Sidoo right when it tried to use legal means to stop  Advantage from using those water rights at Clayton NE. In doing that the major showed its hand – and its high level of interest.

CONCLUSION—A STRATEGIC ASSET WITH THE POTENTIAL
TO GROW IN VALUE WITH EVERY DRILL HOLE
There's more to this story.  Advantage also owns a strategic lithium asset in South America–right beside a major, shallow resource owned by lithium player, Orocobre. They again got in right beside a major lithium player.
The Market has barely heard this Advantage story – but that will change quickly as Advantage keeps hitting lithium  brine at Clayton Northeast.
This team has done it before—multiple times.  They've developed assets, raised hundreds of millions at higher and higher prices and enriched investors with big buyouts.
And now they're focused on what I think is the most valuable early stage lithium property in North America–where they've proven they have brines with grades on par with the producing mine next door.
Lithium prices are up HUGE from last year.  And getting new supply–a new mine into production–is notoriously difficult.  This will keep lithium prices—and investors' interest—up for years.
Major brokerage firms like Goldman Sachs are holding conferences and issuing research on lithium. That makes this the perfect story for right now.  Even with an award winning geological team, a track record of delivering shareholder wealth, and a strategic asset right beside North America's only lithium mine (with water rights!), Advantage Lithium is still unknown–but not for long.
Management has sponsored and reviewed this article.
The information in this newsletter does not constitute an offer to sell or a solicitation of an offer to buy any securities of a corporation or entity, including U.S. Traded Securities or U.S. Quoted Securities, in the United States or to U.S. Persons.  Securities may not be offered or sold in the United States except in compliance with the registration requirements of the Securities Act and applicable U.S. state securities laws or pursuant to an exemption therefrom.  Any public offering of securities in the United States may only be made by means of a prospectus containing detailed information about the corporation or entity and its management as well as financial statements.  No securities regulatory authority in the United States has either approved or disapproved of the contents of any newsletter.
Keith Schaefer is not registered with the United States Securities and Exchange Commission (the "SEC"): as a "broker-dealer" under the Exchange Act, as an "investment adviser" under the Investment Advisers Act of 1940, or in any other capacity.  He is also not registered with any state securities commission or authority as a broker-dealer or investment advisor or in any other capacity.