Strata-X is on the Cusp of Discovery with 48,000 Acres in Illinois Basin
SXE-TSXv – STRXF-PINK
ADVERTORIAL BY KEITH SCHAEFER
The perfect exploration stock has a low market cap and a big discovery—accompanied by an even bigger land package, and run by a team that has built and sold juniors before.
And that's what I think I have with Strata-X, symbol SXE-TSXv.  Nobody follows this story, but they have 48,000 acres in the Illinois Basin—underlain by the New Albany Shale—which I think could be the Next Big Shale Play in North America.
Geologically, it's most similar to the Bakken.  But well costs will be about a quarter of the Bakken.
And there's a lot of immediacy here—they're drilling their first well in Illinois right now.  If the well hits, this 39 cent stock has a chance to be a big winner.  And in this first well—there's oil showings in the mud.  That's a very good sign.
No other junior I'm aware of has the leverage to this play like Strata-X.  Most people don't realize the Illinois Basin has produced 4 billion barrels of oil—in the 1940s and 50s, it was one of America's largest oil producers.  
And if the Bakken is the similar geologic model, then shareholders should be enjoying Bakken style gains—like Brigham from $3-$36 in three years.
And management? Chairman Ron Prefontaine has sold his last two oil and gas juniors for a combined $4.0 billion.   So Strata-X really has everything I look for—and the first well result is coming soon.
Strata X CEO Tim Hoops explained to me how they set this micro-cap up to be a ten-bagger for investors, with drill success.
"We got in early, got a big land position and we are the operator," he told me in an interview. "That's what gives you great profit margins.  The royalty rate on our lands is only 15%.  And we paid $100 per acre versus $10,000 an acre in other plays.
That kind of potential is here—and more; acreages in the Eagle Ford and Permian have gone to $25,000 and $40,000 respectively.  And the lift could happen quick.
You see, the industry has already cracked the geological code!  On August 7, Rex Energy (REXX-NASD) announced its first successful horizontal well, with an IP30 (the first 30 days' Initial Production) of 222 barrels of oil per day–that would be roughly a one year payback for Strata X, says Hoops.  That's the kind of returns a junior needs to grow production without diluting its stock.  Rex's stock jumped over $1/share that day.
Acreage is now up to $500 in the Illinois Basin, and other producers are entering the play. Intermediate producers such as SM Energy (SM-NYSE; $75) are not only staking but drilling. That has me thinking this play will heat up quickly.
And I am really surprised the industry hasn't gone after this basin faster since The Shale Revolution started. This was one of the largest producing basins in the US!  It looks very similar to the Bakken, and it's almost in the middle of the country.  It already has a discovery! For Strata-X to get that big a land package in that prospective, and SAFE an area as Illinois—it's remarkable.
How did Hoops and Chairman Ron Prefontaine get such a big land position so early, so quietly?   That's actually a great story.  As they started buying land, they told the Market it was the Vail Oil Project, so people would think it's in Colorado.
Second, if they met other landmen in the prospective 500 square-mile area—and they did—they just moved to another geological sweetspot.  And they got their land SO cheap.  That's how you set yourself up for a major stock win in a microcap.
But even before that, they did some impressive geological detective work.  They were looking for a project with three key ingredients:
1.      low cost wells
2.      similar geology to other oil-rich basins
3.      lots of private landowners, where small companies can get big land positions
And they found it right under the industry's nose in the Illinois Basin. "We think we got all the low hanging fruit, and we think it will be hard for someone to come in and challenge us there; we really did get Prime Mover Advantage," says Hoops.
He told me what the clinching discovery was:  "Every time we saw porosity below the shale there was oil showings.  What that means is that there was so much oil in the shale, a lot of it got pushed out—up, laterally and down. That oil is looking for a storage unit, and there was the dolomite right underneath.  It's dolomite just like there is under the Bakken where it was discovered at Elm Coulee in Montana.
"And the dolomite was tight right below the shale too, which makes it a good candidate for modern horizontal drilling and fracking.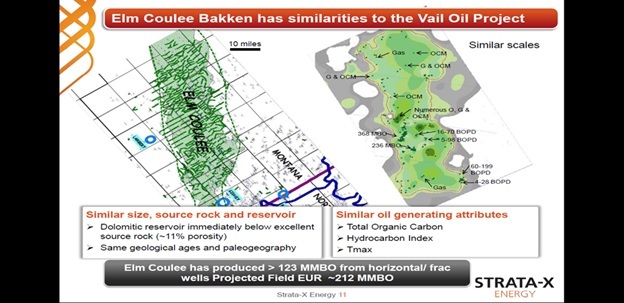 Dolomite is like limestone; it's A LOT easier to drill through than shale.  And it's more porous, which means the formation gives up the oil a lot easier.
Hoops said they mapped the system out over 500 square miles, and then hired an independent expert from the Bakken to analyze their data.  Once that expert said it was good, they hired a group of landmen and got their acreage position.
And now—the first well has already been drilled.  They found two saturated oil zones right under the New Albany Shale in what is called the Lingle dolomite.
SM Energy—a mid-tier producer—is also drilling the Lingle.  Plains Exploration—recently bought by Freeport—is also reported to be active in the Basin.
While this well cost $3 million, Strata-X is expecting all in costs of $2.4 million in future.  A one-year payback would equate to an IP (Initial Production) rate of 200 barrels of oil per day–exactly what Rex Energy had.  Now repeat that at least 300 times, because that's a minimum number of drill locations that over 48,000 productive acres will hold.  That's four per square mile, and a lot of US plays are going to eight.
Now, they have to prove up their acreage still.  But the fact we have a producing horizontal just announced with rising land prices–I smell a big potentially Big Play in the making. Buying big land positions in small juniors is how I made a lot of money with DeeThree Exploration (DTX-TSX; DTHRF-PINK) in the Alberta Bakken in its early days.
This Strata-X team has created multi-baggers before. As Executive Director of Arrow Energy, Prefontaine led shareholders to a $3.5 billion payday in 2010 when it was sold to a joint bid from Shell and PetroChina.
As co-founder of Bow Energy he took the company from a $6 million IPO in 2005 to a $550 million takeover in 2011.
That is so important to me.  Management who know what it takes to not only build a company but sell a company are much rarer than you think.
Insiders own 22% of the company (Prefontaine 12% personally), and they are in this to make some money alongside shareholders.  I love that.
I've got a junior here that's completely under the radar, but has a big land position—years of potential drilling inventory—all sewn up in what is likely The Next Big Shale Play.  The Bakken and the Illinois Basins are geologically similar.
And now, there's a very economic discovery hole by a major player in the Illinois basin.  Usually, "best practises"–i.e. the successful production technique–spreads like wildfire through a play. Acreage prices are moving up.
By the way, Rex Energy only has 33,000 acres in the Illinois Basin.  Strata-X has 48,000 acres, and it's run by a team that hasmade shareholders $4.0 billion in the last three years.
Strata-X has a great chance at being The Next Big Company in the Next Big Shale Play—with drill results coming soon.
This story has been sponsored and reviewed by Strata-X management.
DISCLAIMER: The information in this newsletter does not constitute an offer to sell or a solicitation of an offer to buy any securities of a corporation or entity, including U.S. Traded Securities or U.S. Quoted Securities, in the United States or to U.S. Persons.  Securities may not be offered or sold in the United States except in compliance with the registration requirements of the Securities Act and applicable U.S. state securities laws or pursuant to an exemption therefrom.  Any public offering of securities in the United States may only be made by means of a prospectus containing detailed information about the corporation or entity and its management as well as financial statements.  No securities regulatory authority in the United States has either approved or disapproved of the contents of any newsletter.
Keith Schaefer is not registered with the United States Securities and Exchange Commission (the "SEC"): as a "broker-dealer" under the Exchange Act, as an "investment adviser" under the Investment Advisers Act of 1940, or in any other capacity.  He is also not registered with any state securities commission or authority as a broker-dealer or investment advisor or in any other capacity.